ArcelorMittal Montreal employees brighten the Holidays for dozens of families
8 January 2015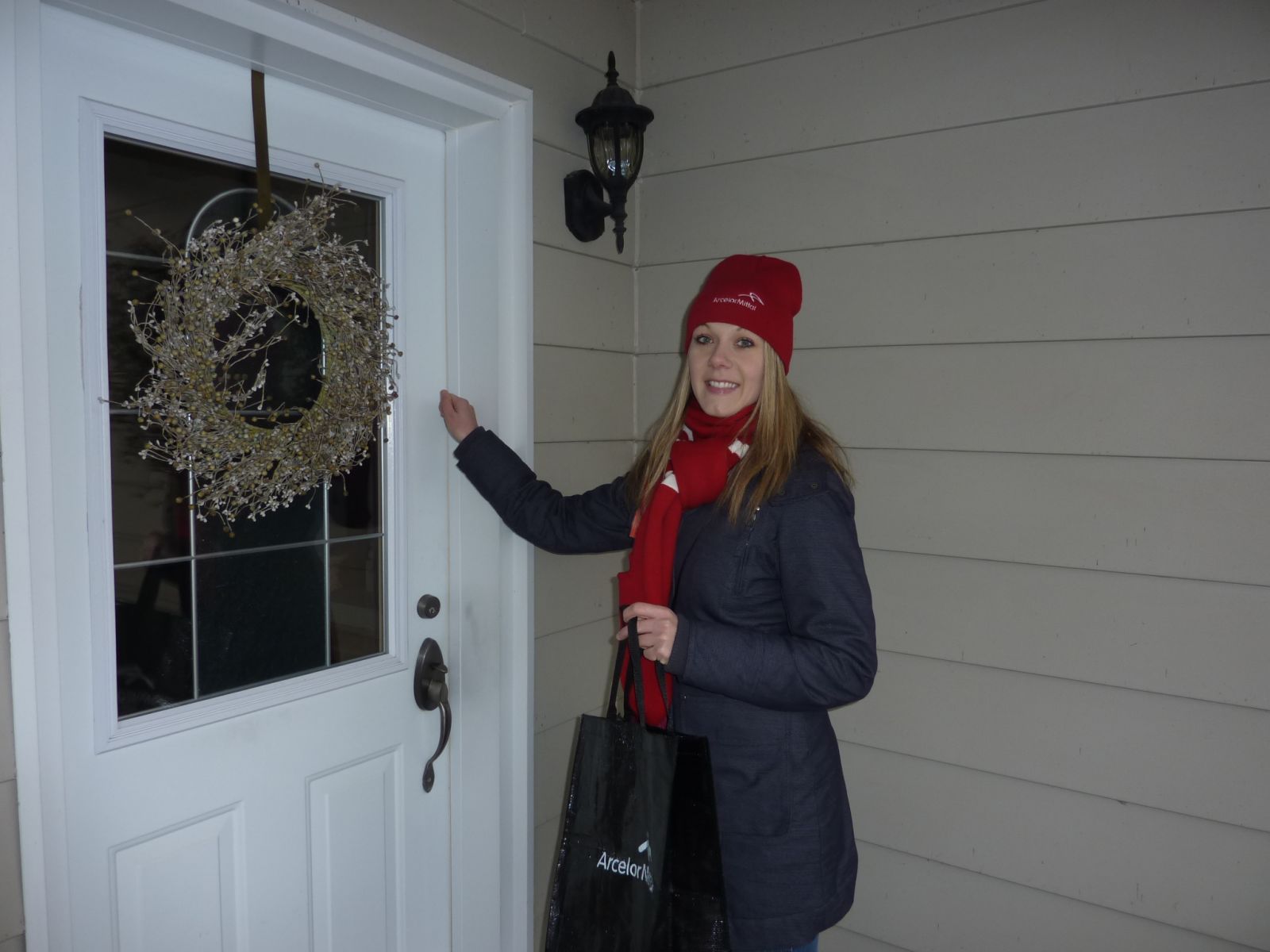 CONTRECOEUR, January 8, 2015 – On December 5th every year, as part of the United Nations International Volunteer Day, ArcelorMittal encourages its 232,000 employees worldwide to do something to improve their host communities. Once again this year, ArcelorMittal Montreal's workforce contributed by raising more than $8,700 and donating their time to assemble and distribute Christmas baskets. These acts of generosity were not limited to December 5th, however, and many occurred throughout the month.
In Contrecoeur, a fund drive at the entrance of the Contrecoeur-East complex on December 2 and 5 collected money for the Contrecoeur Volunteer Centre (CVC). A fund drive and a 50-50 draw were also held at the Contrecoeur direct reduction plant. These activities brought in more than $3,600. In addition, ArcelorMittal Montreal employees took part in the CVC's annual fund drive on November 30, going door-to-door in Contrecoeur to collect cash and non-perishable food donations.
Their colleagues at the Contrecoeur-West complex were not to be outdone and held their own fund drive at the main entrance on December 5, raising $1,044 to support the Verchères Volunteer Centre. A squad from the complex also helped the Centre's team collect donations in the streets of Verchères on December 4.
Many employees at the Longueuil Bar Mill supported the local media fund drive on December 4, collecting a total of $4,095 from Boucherville passersby. The funds were given to the media fund drive's partner organizations, including Moisson Montréal and Sun Youth.
About twenty employees and family members from the Montreal (St-Patrick) Wire Drawing Mill sorted food donations for Christmas baskets at Moisson Montréal on December 7 and 13.
"As a major employer in the communities in which we operate, ArcelorMittal wants to give back to our host communities. We are pleased to see that our employees' generosity enabled families in need to have a happier holiday," explained Sujit Sanyal, Vice President, Operations, ArcelorMittal Montreal.
This is only one aspect of ArcelorMittal Montreal's commitment to its host communities. For more information on the company's areas of activity and examples of partnerships, see the Social Responsibility section of the ArcelorMittal Montreal Web site at montreal.arcelormittal.com.
About ArcelorMittal Montreal
ArcelorMittal Montreal's (montreal.arcelormittal.com) mission is to safely manufacture sustainable steel in accordance with its values of health and safety, quality, leadership and sustainability. The company employs about 1,750 people in 11 facilities in Contrecoeur, Longueuil, Montreal, La Prairie, Hamilton and Ottawa. It operates three scrap-metal conversion and recycling centres, one iron-ore reduction plant, two steel plants, three rolling mills and two wire drawing mills. The group has an annual production capacity of over 2 million tons of steel and generates economic spinoffs of more than $1 billion per year.
ArcelorMittal Montreal is part of ArcelorMittal, the world's leading integrated steel and mining company, with a presence in more than 60 countries.