ArcelorMittal Montreal launches new scholarships and renews its partnership with the Fondation du Cégep de Sorel-Tracy
10 April 2015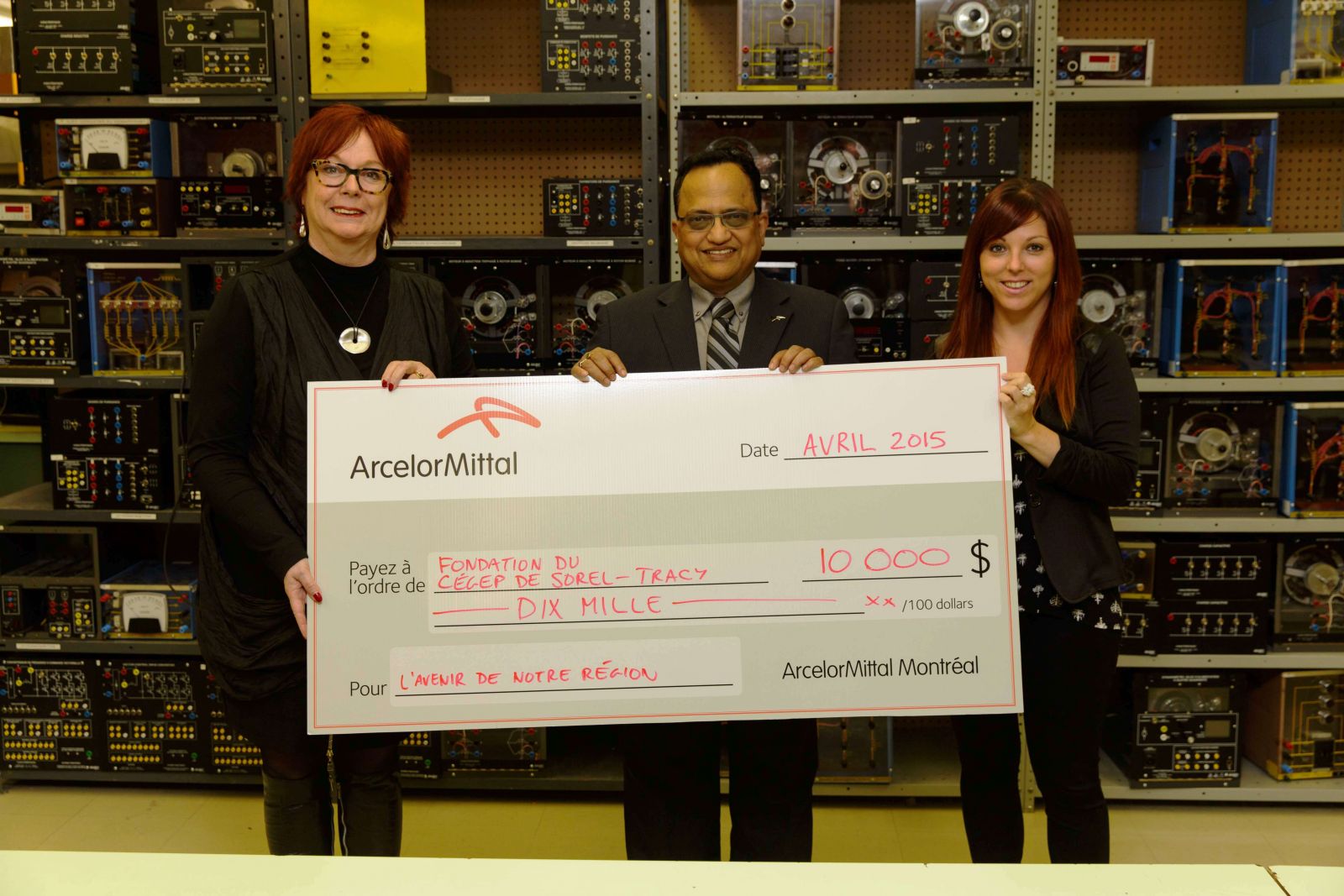 Fabienne Desroches, Executive Director of the Cégep de Sorel-Tracy and Myriam Arpin, Executive Director of the Cégep's Foundation, with Sujit Sanyal, Vice President, Operations, ArcelorMittal Montreal during the presentation of the symbolic cheque. (Photo credit: Guy Bergeron)
CONTRECOEUR, April 10, 2015 – ArcelorMittal Montreal is pleased to announce the renewal of its partnership with the Fondation du Cégep de Sorel-Tracy for the 2014-2015 school year through a $10,000 donation. Within this amount, $2,000 will be used to create Transforming Tomorrow scholarships sponsored by ArcelorMittal Montreal to promote science, technology and occupational health and safety.
The four $500 Transforming Tomorrow scholarships will be awarded to students who have shown perseverance throughout their studies in the following college programs: Mechanical Engineering, Industrial Electronics, Computer Science, and Environment, Industrial Hygiene and Occupational Safety. The scholarships will be presented during the college's annual awards ceremony on April 18.
"ArcelorMittal Montreal is continuing its tangible commitment to developing a motivated future workforce to encourage the economic vitality of its host communities," said Sujit Sanyal, Vice President, Operations at ArcelorMittal Montreal. "The creation of the Transforming Tomorrow scholarships reflects our wish to acknowledge students who continue their education in fields of interest to our company, but also to our society in general."
"We are pleased that ArcelorMittal Montreal has chosen to continue to support us and our local students", added Myriam Arpin, Executive Director of the Fondation du Cégep de Sorel-Tracy. "ArcelorMittal Montreal's donation will enable us to foster and acknowledge academic excellence and will ensure that our college remains a school of choice in the community."
The remainder of the donation will be used to fund the Cégep's global scholarships budget as well as technology development activities.
This announcement is only one aspect of the company's commitment to its host communities. More information about the company's areas of interest and examples of partnerships is available on the ArcelorMittal Montreal Web site at montreal.arcelormittal.com.
About ArcelorMittal Montreal
ArcelorMittal Montreal's (montreal.arcelormittal.com) mission is to safely manufacture sustainable steel in accordance with its values of health and safety, quality, leadership and sustainability. The company employs about 1,700 people in Contrecoeur, Longueuil, Montreal and Hamilton. It operates a scrap metal conversion and recycling centre, one iron-ore reduction plant, two steel plants, three rolling mills and two wire drawing mills. The group has an annual production capacity of over 2 million tons of steel and generates economic spinoffs of more than $1 billion per year.
ArcelorMittal Montreal is part of ArcelorMittal, the world's leading integrated steel and mining company, with a presence in more than 60 countries.

Students and teachers from the Industrial Electronics Program surround Fabienne Desroches, Executive Director of the Cégep de Sorel-Tracy, Sujit Sanyal, Vice President, Operations, ArcelorMittal Montreal and Myriam Arpin, Executive Director of the Cégep's Foundation. (Photo credit: Guy Bergeron)