A Full Catalogue at Your Fingertips: Our Products, Your Projects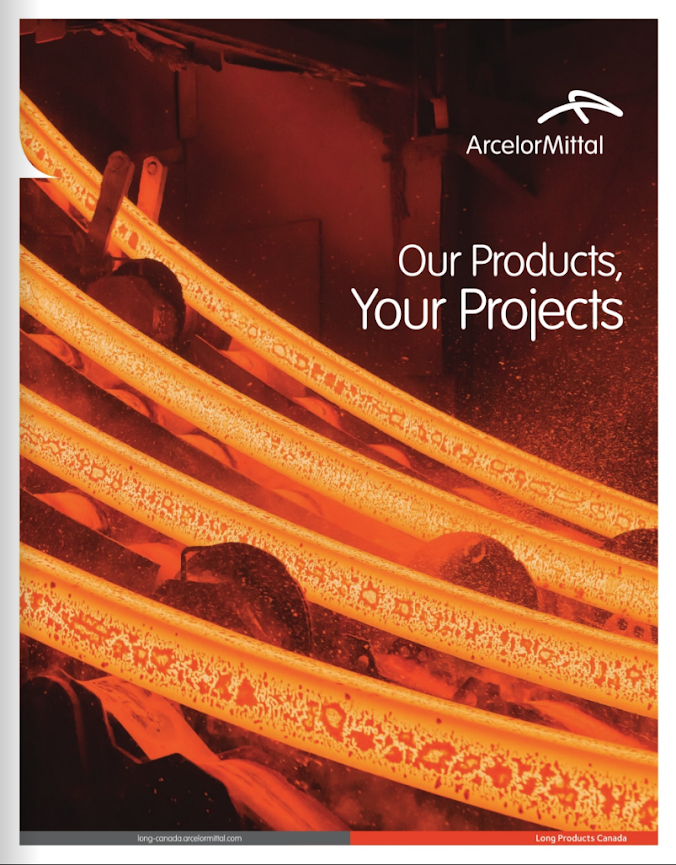 Our Sales and Marketing team at ArcelorMittal Long Products Canada now has an attractive, detailed marketing brochure that showcases our products for current and potential customers. The Our Products, Your Projects catalogue gives anyone who interacts with our customers access to our full range of products in a practical, easy-to-use format. This brochure is intended for customers' sales representatives and technical specialists, given the in-depth information it contains. Of course, our employees and the public can also use it to learn more about our products.
"This brochure once again confirms our long products leadership in North America and proves that our customers can count on a broad range of steel products in various sizes and grades and with different specifications," said Philippe Boulanger, Vice President and Chief Marketing Officer. "The catalogue reflects the flexibility of our ArcelorMittal Long Products Canada mills and workers, who have no hesitation in responding to customers' needs and helping them achieve their objectives."
Divided into two main sections, the brochure provides an overview of our company, its culture and the advantages of doing business with a world leader like ArcelorMittal. Links and QR codes give readers access to additional videos about our organization. This section is followed by 13 datasheets on each type of rolled product, divided into three main categories: bars, wire rod and drawn wire. The brochure features useful photographs that show our steel and its applications from all angles.
The brochure is available to the public in electronic format at http://long-canada.arcelormittal.com/flipbook/.
"Since we began using Our Products, Your Projects in dealings with current and future customers, the reactions have been very positive. The brochure is an excellent way to begin a fruitful conversation," added Marketing Manager Diane Sevigny.
Combined with our focus on safety and quality, reliable on-time production, efficient delivery and thorough after-sales service, this catalogue will provide a customer experience that reflects our status as a world-class business.