Long Products Canada Celebrates the 40th Anniversary of Slab Production in Contrecoeur
27 February 2018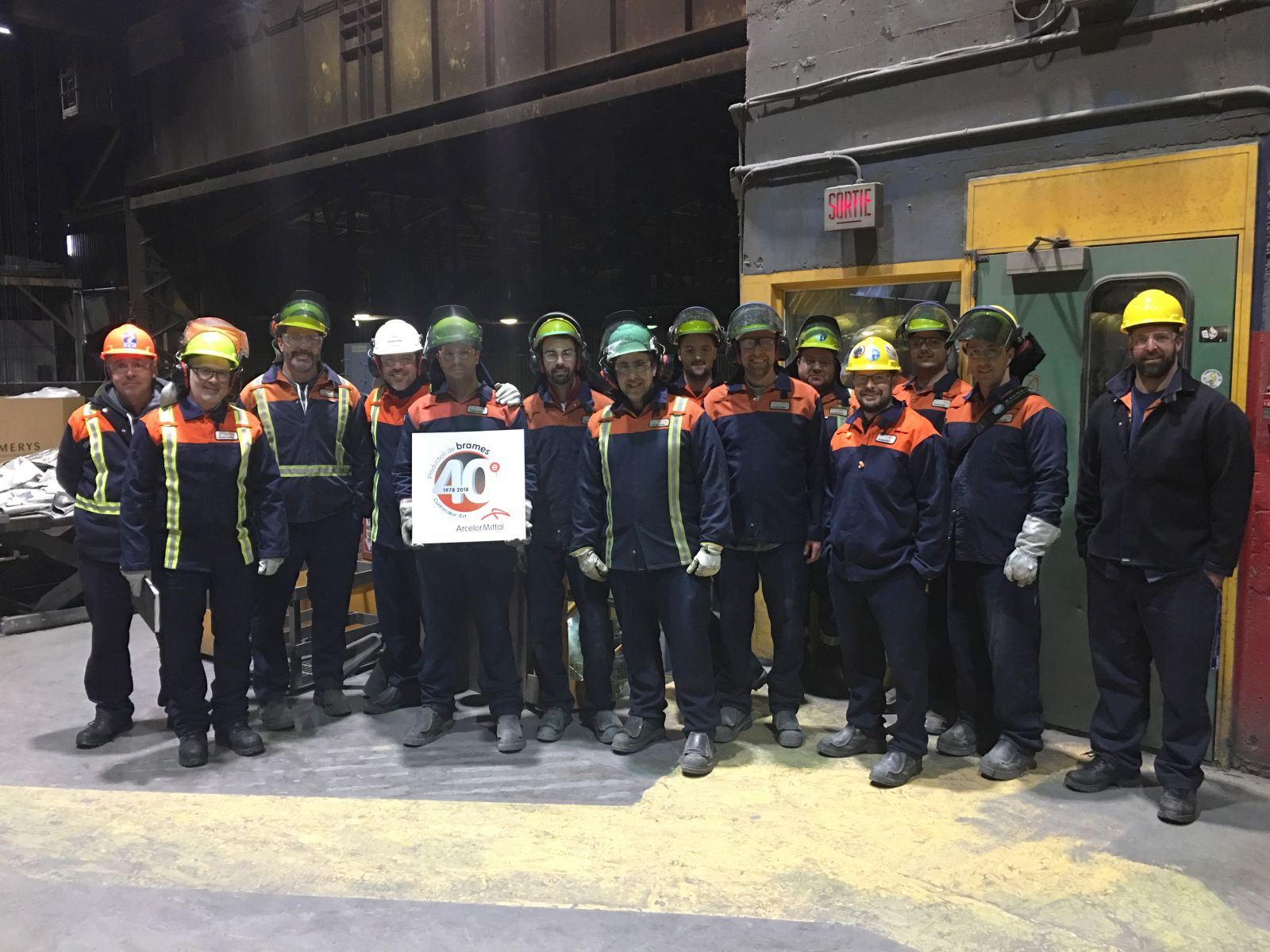 Members of the management team, United Steelworkers union representatives and workers from the slab sector celebrate the 40th anniversary of slab production at the Contrecoeur-East steelworks.
CONTRECOEUR, February 27, 2018 – On February 25, the team at the ArcelorMittal Long Products Canada Contrecoeur-East steelworks celebrated the 40th anniversary of slab production in Contrecoeur. At 8 p.m. on that date in 1978, the first slab exited the furnaces at the facility. As an addition to the billets that had been manufactured at Contrecoeur-West and Contrecoeur-East since the late 1950s, slabs constituted a second raw product for our portfolio which is still at the heart of our operations 40 years later.
Currently, our slabs are delivered almost exclusively to our sister company, ArcelorMittal Dofasco in Hamilton, Ontario, where they are converted into rolled steel for use in various steel products for the automotive industry. They are an essential part of the North American auto industry's value chain. In addition, they inspired renowned sculptor Armand Vaillancourt, who used twenty slabs given by ArcelorMittal Long Products Canada to build his monumental sculpture, La force ouvrière (The Workers' Strength), as a tribute to union leader Michel Chartrand. The sculpture is located in Michel-Chartrand park in Longueuil.
"Thanks to dedicated workers who kept a constant eye on safety, quality and productivity, we are still making slabs today and we hope to continue for a long time to come," declared François Perras, Chief Executive Officer of ArcelorMittal Long Products Canada. "I want to congratulate the workers involved in the various stages of production and delivery of this product, which is key to the success of our operations."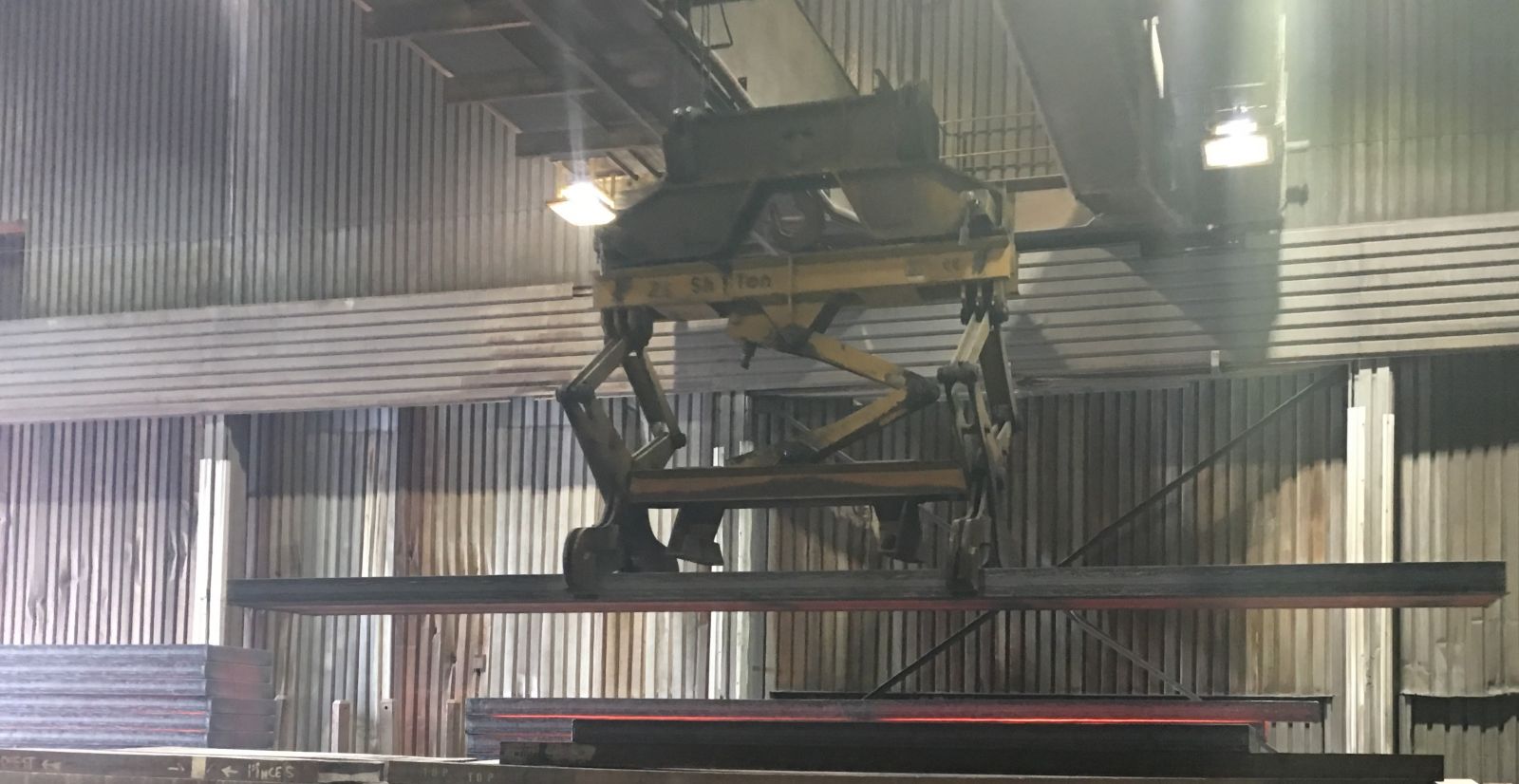 A slab being transported to the storage area before being delivered to clients.
Some interesting facts about slabs:
Even though their exact dimensions vary based on the client requests, a typical slab is 1,300 mm (51 in.) wide, 206 mm (8 in.) thick and 9,428 mm (371 in.) long.
About 750,000 tonnes of slabs are produced by the Contrecoeur-East steelworks every year–which corresponds to roughly 39,000 slabs/year.
The mill manufactures an average of 7 to 8 slabs per hour, day and night.
One slab weighs 20 tonnes, which is the weight of 15 subcompact cars.
With one slab, we can make 950 metres of rolled steel, the length of 9 soccer fields.
To celebrate this milestone, the employees involved in slab production were visited by senior management and local union representatives at the plant and in lunch areas. In addition, the slab produced at 8 p.m. on February 25 has been kept and will eventually be used for commemorative purposes. Congratulations to everyone!
About ArcelorMittal Long Products Canada
ArcelorMittal Long Products Canada's ((long-canada.arcelormittal.com) mission is to safely manufacture sustainable steel in accordance with its values of health and safety, quality, leadership and sustainability. The company employs about 1,700 people in Contrecoeur, Longueuil, Montreal and Hamilton. It operates a scrap-metal recycling and conversion centre, an iron-ore reduction plant, two steel mills, three rolling mills and two wire-drawing mills. The group has an annual production capacity of over 2 million tons of steel and generates economic spinoffs of more than $1 billion per year.
ArcelorMittal Long Products Canada is part of ArcelorMittal, the world's leading integrated steel and mining company, with a presence in more than 60 countries.