President and Chief Executive Officer, ArcelorMittal Long Products Canada
Portrait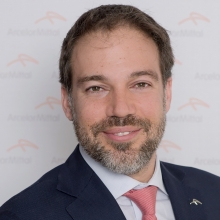 François Perras is President and Chief Executive Officer, ArcelorMittal Long Products Canada since 2017. He oversees the group's operations, which include an ore reduction plant, two steel mills, three rolling mills and two wire mills. Mr. Perras strives to maximize cooperation and synergy to enhance product quality and ArcelorMittal Long Products Canada's already enviable reputation among its customers.
Mr. Perras joined the company as a Metallurgist in 2000, then became a technical advisor at the cold mill, becoming Senior Coordinator in 2004. He managed the hot mill from 2006 until the facility closed in 2008. Mr. Perras subsequently held several strategic positions and spent some time in a professional development program at the Company's global head office in Luxembourg where he worked closely with the management committee. In 2012, he returned to Canada and was appointed Director, Recycling and Raw Materials, then added the Purchasing portfolio in 2015.
Prior to his nomination as CEO, in his previous role of Chief Strategy Officer, François Perras was dedicated to defining and implementing our business strategies to increase our profitability, market share and operational effectiveness. He was also responsible for the Continuous Improvement and Strategic Value Creation group created at the end of 2014 to accelerate the identification of best operating practices and their implementation in a structured manner.
François Perras holds a bachelor's degree in Metallurgical Engineering from Université Laval and Michigan Technological University (MTU) as well as a Master of Business Administration (MBA) from the Université de Sherbrooke.