ArcelorMittal Long Products Canada Commits to a Major Partnership with ETS Inventive Genius Challenge until 2020
16 January 2018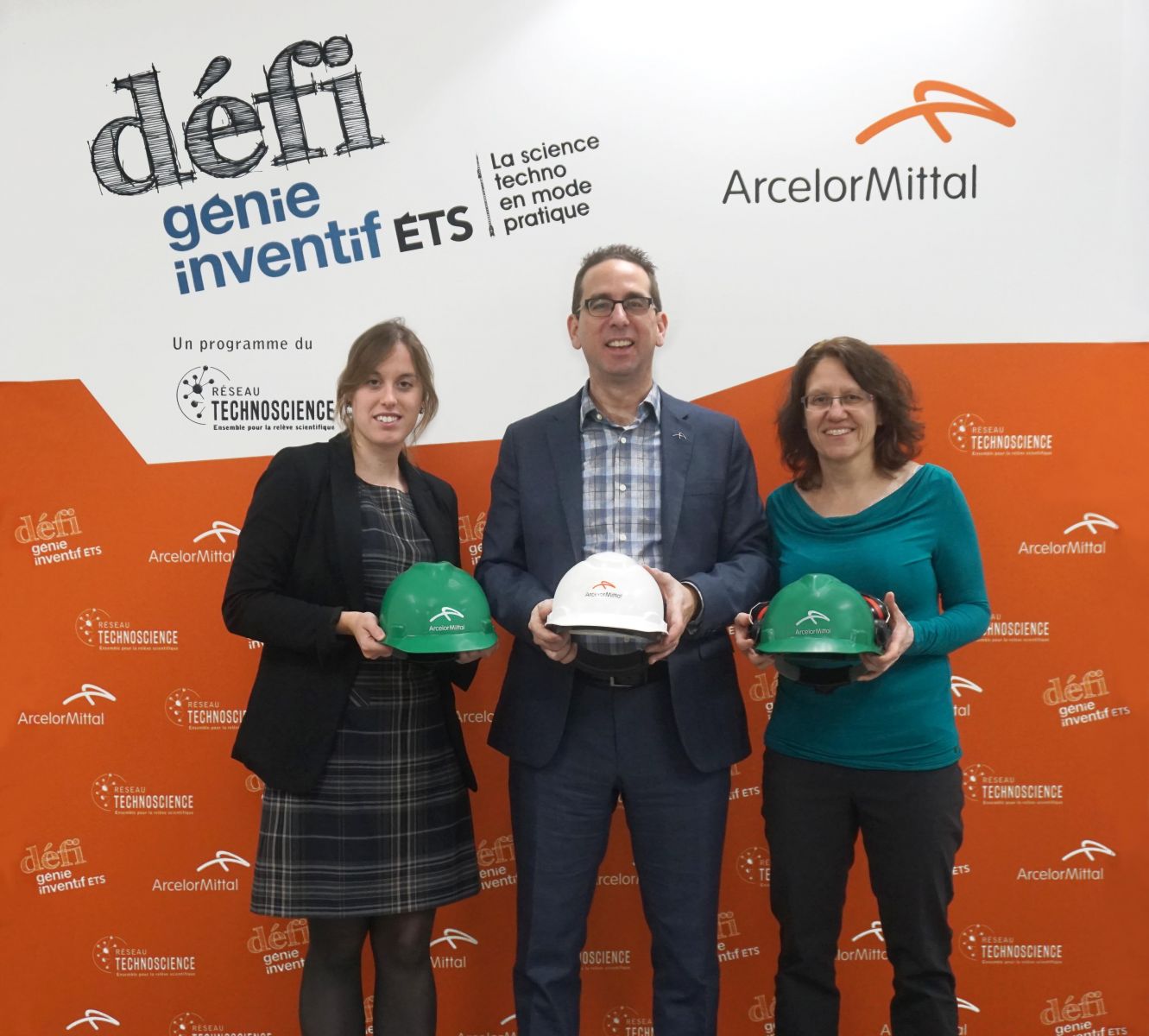 Photo caption: Representatives from Réseau Technoscience, Maude Péloquin, Communications Advisor and Isabelle Jutras, Program Manager, celebrate the partnership with Louis-Philippe Péloquin, Director of Communications for ArcelorMittal Long Products Canada.
CONTRECOEUR, January 16, 2018 – Having supported the Défi génie inventif ÉTS (ETS Inventive Genius Challenge) in 2016-2017, ArcelorMittal Long Products Canada announces that it will again act as a major partner in this program for the next three school years until spring 2020. This successful initiative, which gives high-school students an opportunity to use their science knowledge in practice, has been sponsored by Réseau Technoscience since 2000 and has expanded every year.
"The Inventive Genius Challenge enables ArcelorMittal Long Products Canada to contribute actively to the motivation of future engineers and scientists," said François Perras, Chief Executive Officer of ArcelorMittal Long Products Canada. "This kind of program is a determining factor in the future of young people as it gives them an opportunity to develop their scientific know-how in a fun context and may even guide their career choice."
The Challenge's organizers present the students with original, complex situations for which they must find solutions as efficiently as possible. For 2017-2018, the participants will have to design a vehicle that can navigate down a slope, pass between two columns and stop as close as possible to a mark without going over it. Some 5,000 youngsters will take part in these activities and 600 will compete in one of the 11 regional finals to be held this winter across the province. The best teams, about 100 participants, will test their mettle next spring in the Quebec final at the École de technologie supérieure (ÉTS).
"Our programs can make a difference because of the support from dedicated partners intent on sharing and passing on their scientific knowledge to benefit the students. We are pleased that ArcelorMittal has decided to renew its support for the ETS Inventive Genius Challenge until spring 2020. It encourages us to maintain the impetus that the Challenge has built up in recent years", added Roland Grand'Maison, Executive Director of Réseau Technoscience.
The STEM (science, technology, engineering and mathematics) sector is a top global priority for ArcelorMittal's donations and sponsorships. Locally, ArcelorMittal Long Products Canada supports many projects in this area of interest, including such organizations as Animations scientifiques Prof Dino, Earth Rangers and, for the past two years, the provincial final of the Super Expo-Sciences. This is part of the company's response to one of its ten global sustainable development outcomes: "Pipeline of talented and qualified employees for tomorrow".
More information about the areas of interest and examples of partnerships are available on the ArcelorMittal Long Products Canada Corporate Responsibility section of its Web site.
About ArcelorMittal Long Products Canada
ArcelorMittal Long Products Canada's (long-canada.arcelormittal.com) mission is to safely manufacture sustainable steel in accordance with its values of health and safety, quality, leadership and sustainability. The company employs about 1,700 people in Contrecoeur, Longueuil, Montreal and Hamilton. It operates a scrap-metal recycling and conversion centre, an iron-ore reduction plant, two steel mills, three rolling mills and two wire-drawing mills. The group has an annual production capacity of over 2 million tons of steel and generates economic spinoffs of more than $1 billion per year.
ArcelorMittal Long Products Canada is part of ArcelorMittal, the world's leading integrated steel and mining company, with a presence in more than 60 countries.
About Réseau Technoscience
Réseau Technoscience and its local organizations throughout Quebec foster an interest in science and technology among young Quebecers age 4 to 20. Their programs and activities encourage the emergence of future scientists by using a hands-on approach to support science and technology education. The programs offered by Réseau Technoscience include: Expo-sciences, Défis technologiques, Club des Débrouillards and Les Innovateurs à l'école. The organization also distributes a number of science education kits and games for elementary and secondary school students.