Operation Backpack Returns in 2019: 1,500 Hamilton Families in Need Get Free School Supplies
30 September 2019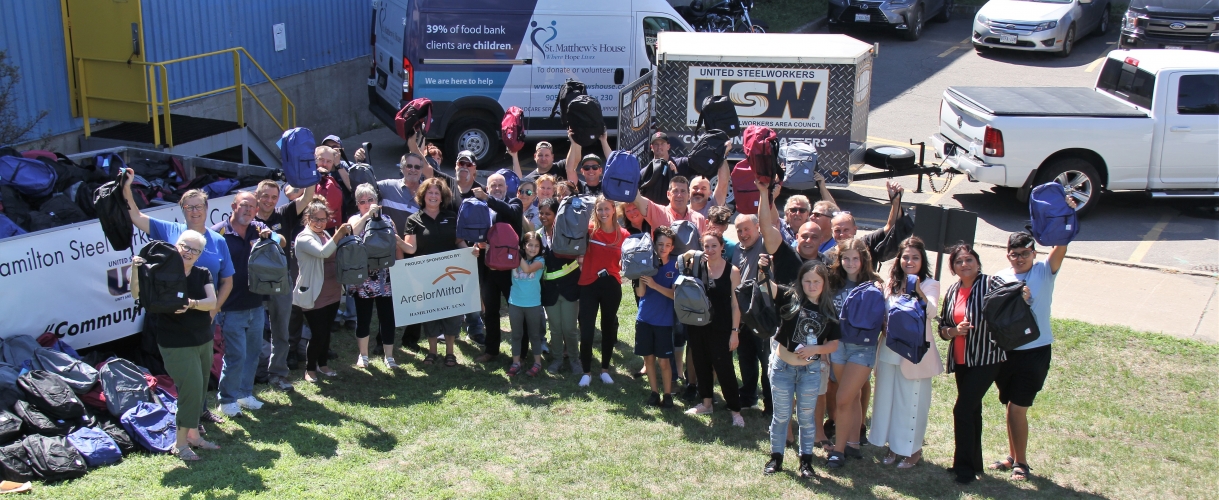 ArcelorMittal Hamilton-East and the United Steelworkers (USW) Local 5328 have teamed up again this year to reduce back-to-school stress for Hamilton families in need. Using donations and school supplies totalling more than $45,000 obtained through the company, the union, corporate sponsors and individuals, volunteers filled 1,500 backpacks with pencils, rulers, notebooks and other necessary items. These backpacks were then distributed through St. Matthew's House, a well-known Hamilton non-profit, to students across the Greater Hamilton area in time for the first days of school.
"These 1,500 backpacks are not only filled with school supplies—they're also providing dignity and pride to families across our host community," said Jaideo Debie, Plant Manager, ArcelorMittal Hamilton-East. "ArcelorMittal is proud to partner once more with USW Local 5328 and its members to continue this tradition that started in 2008, making sure that all students can start the school year on the right foot."
"For Local 5328 and Steelworkers in Hamilton, Operation Backpack has become the largest fundraising effort of the year," said Anthony Ciaramella, President of USW Local 5328. "Community Matters" is our mantra, and with the support of ArcelorMittal and so many other partnering USW Locals, businesses and individuals, we believe that we are making a difference here in Hamilton. On behalf of all of us, a special thank you to Darren Green, former President of Local 5328, for his extraordinary fundraising efforts year in year out!"
Volunteers filled the backpacks during an event at the ArcelorMittal Hamilton-East mill on August 28.
Over recent years, the program has been able to extend its reach beyond the Hamilton inner-city, and now reaches children in need across the entire community. It is part of a series of initiatives undertaken by ArcelorMittal Long Products Canada mills in Ontario and Quebec to play an active role in the communities in which they operate and where their employees live. You can read more about these projects at long-canada.arcelormittal.com/en/our-partnerships.