A Promising Future in Engineering with a $42,000 Donation from ArcelorMittal to the Fondation de Polytechnique
18 September 2018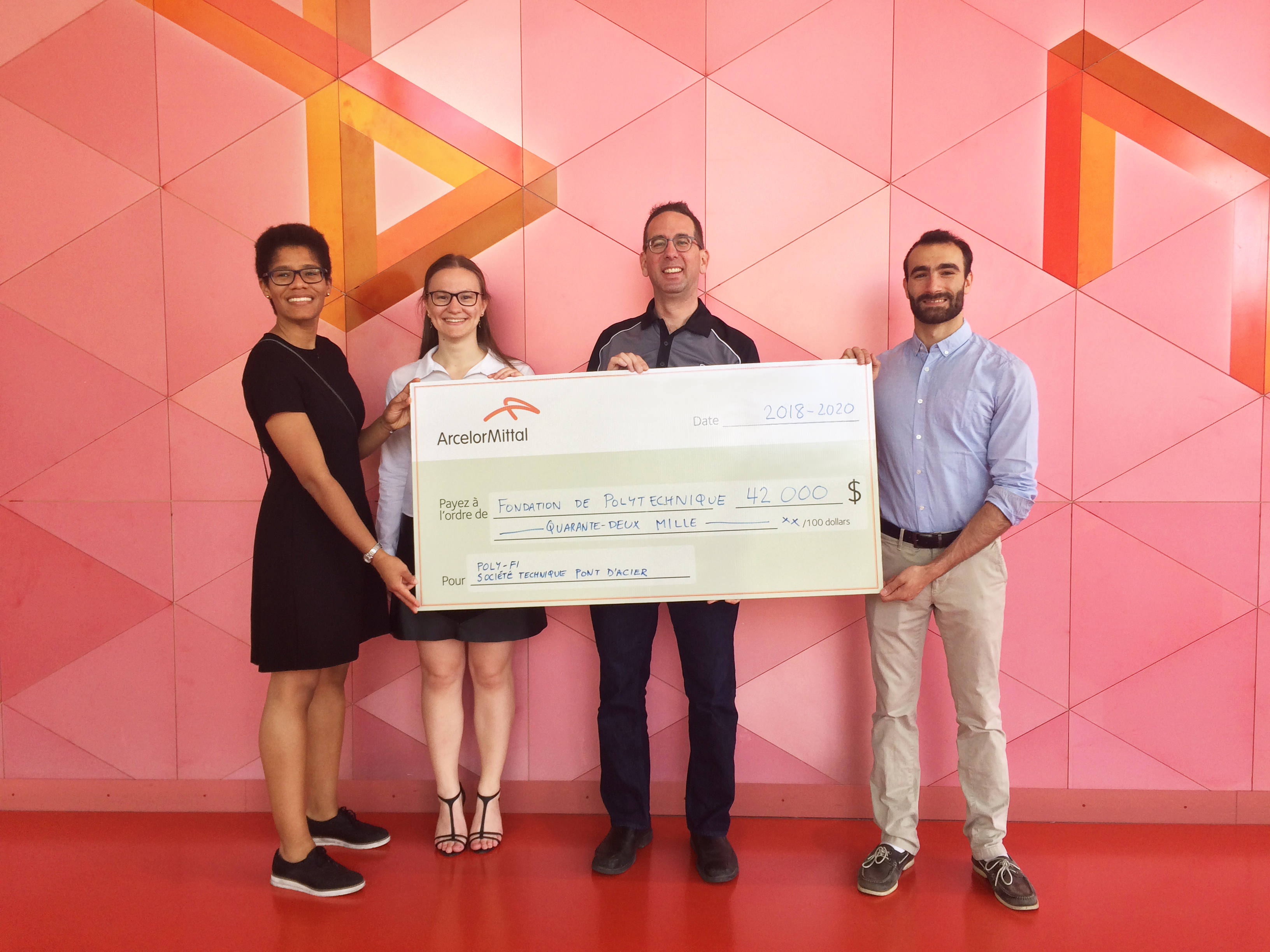 Photo caption: Left to right, Éloïse Edom, Poly-FI Committee representative, Ionela Elena Hagiu, a member of the EPM Steel Bridge team, Louis-Philippe Péloquin, Director of Communications with ArcelorMittal Long Products Canada, and Marc Vanderweyen, EPM Steel Bridge technical supervisor. (© ArcelorMittal, 2018.)
CONTRECOEUR, September 18, 2018 – The new fall semester at Polytechnique Montréal will be celebrated with a substantial contribution from ArcelorMittal Long Products Canada in support of future engineers. The company has announced a donation of $42,000 over three years (2018, 2019 and 2020) to the Fondation de Polytechnique to support the students' Poly-FI ($24,000) and EPM Steel Bridge ($18,000) initiatives. This renews ArcelorMittal's commitment to these two initiatives, which have received support in a similar partnership for the past three years.
"At ArcelorMittal, steel and engineering team up every day to create products and solutions that meet the challenges of our modern society," said François Perras, Chief Executive Officer of ArcelorMittal Long Products Canada. "It is natural for us to support these two projects—Poly-FI and EPM Steel Bridge—until 2020 to show the public at large all aspects of a career in engineering."
"The Fondation de Polytechnique is pleased with the renewal of ArcelorMittal's commitment to the Poly-FI and EPM Steel Bridge initiatives," said Isabelle Péan, President of the Foundation. "These two student initiatives are great examples of the vitality that exists on the campus of Polytechnique and the dynamic student life. Our institution is unique in that it offers students incredible opportunities to engage in various extra curricular projects that allow them to develop their leadership acumen, team spirit and professional skills to become talented engineers."
To encourage young people, especially girls, to take an interest in science, Poly-FI aims to break down the misconceptions about engineering and present this discipline as accessible. Committee members lead workshops in elementary school classrooms in underprivileged areas of Montreal to familiarize students with engineering. Over 1,700 children were already met since the beginning of 2018. In addition, through industrial visits, mentoring and conferences, Poly-FI helps to boost the image of engineering as a profession for women and brings college and university students in contact with inspiring female engineers.
A long-standing technical society at Polytechnique Montréal, EPM Steel Bridge is a team of about twenty students who participate in North-American bridge-building competitions. Bridge prototypes are built to very specific design criteria that change every year to renew the challenge that awaits the participating teams. The design competitions, and their regional and national versions, also show off Quebec's engineering and steel expertise beyond our borders. Over the years, the members of the EPM Steel Bridge technical society have achieved impressive results, including placing third overall this year in the U.S. regional competition sponsored by the American Institute of Steel Construction and the American Society of Civil Engineers.
As part of its mission to "transform tomorrow", ArcelorMittal wants to support the emergence of a pool of talented professionals in science, technology, engineering and mathematics (STEM) disciplines. This partnership is aligned with this objective, as are other sponsorships awarded by the company in these important fields.
About ArcelorMittal Long Products Canada
ArcelorMittal Long Products Canada's (long-canada.arcelormittal.com) mission is to safely manufacture sustainable steel in accordance with its values of health and safety, quality, leadership and sustainability. The company employs about 1,700 people in Contrecoeur, Longueuil, Montreal and Hamilton. It operates a scrap metal conversion and recycling centre, an iron ore reduction plant, two steel mills, three rolling mills and two wire drawing mills. The group has an annual production capacity of over 2 million tons of steel and generates economic spinoffs of more than $1 billion per year.
ArcelorMittal Long Products Canada is part of ArcelorMittal, the world's leading integrated steel and mining company, with a presence in more than 60 countries.
About the Fondation de Polytechnique
Founded in 1973, the Fondation de Polytechnique mobilizes donors to support Polytechnique Montréal's innovative and priority projects through philanthropic contributions from companies, foundations and graduates and friends of Polytechnique Montréal. It is actively working with Polytechnique to promote the excellence of the next generation of engineers and cutting-edge research, as well as to promote the institution on the local and international scene.
For more information about Poly-Fi: www.aecsp.qc.ca/poly-fi and http://www.facebook.com/polyphi/
For more information about EPM Steel Bridge: http://pontdacier.polymtl.ca/ and http://www.facebook.com/PontdacierEPM
About Polytechnique Montréal
Founded in 1873, Polytechnique Montréal is one of Canada's leading engineering teaching and research institutions. It is the largest engineering university in Québec for the scope and intensity of its engineering research activities. Polytechnique Montréal is located on the Université de Montréal campus, the largest French university campus in the Americas. With over 49,000 graduates, Polytechnique Montréal has educated 22% of the current members of the Ordre des ingénieurs du Québec. Polytechnique's more than 120 study programs are taught by 260 professors and attended by 8,300 students. Its annual operating budget is over $213 million, including an $75-million research budget.
For more information about Fondation de Polytechnique: http://fondation.polymtl.ca and http://www.facebook.com/fondationdepolytechnique